personal response to James Weldon Johnson's "Art vs. Trade"
Is there no power to rescue her, protect, defend her?
There has always been power,
Found in the hands of the people who roam the earth:
Both Art and Trade know this.
It is for that reason Art never falters,
She remains alive for the day mankind comes for her.
Each bruise that litters her snowy throat
And each laboured breath she takes
Only makes her eyes shine brighter.
For if Trade was given this must power,
One day the world would bestow it on her.
Art would never lose hope,
Heart would not allow that to occur;
Reassured as they stood alongside the soul,
That one day, no matter how long it took,
Trade would lose his grip:
If not by the choice of mankind,
By his own limitations.
For one day, the clinking dollars would lose their noise,
As there would be none left;
And it is on that day,
Only Art's soft sounds will be heard.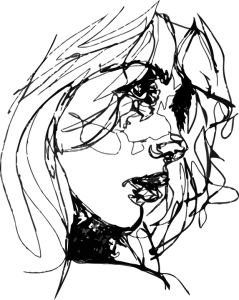 This is my response to the poem "Art vs. Trade" by James Weldon Johnson which my group used in our cultural seminar about the Harlem Renaissance. The original poem depicts the battle between the opposing forces of Art and Trade with the victory seeming closer to the latter. The personification of these concepts is carried forward in my piece because I enjoyed the implied power dynamic and social commentary given on the roles of men and women throughout history. Though I have never personally associated with Art (or Trade for that matter) the feminine nature attributed to this concept made it seem possible and right. The first line I used "Is there no power to rescue her, protect, defend her?" comes from the third stanza of Johnson's piece and from there I wanted to bring hope back; I wanted to prove that there was always a chance of Art returning to power and that it is ultimately the choice of mankind to return her to her rightful throne. In an effort to take back the control Trade has over Art in the original poem, I made it that even as she is being "strangled" she still has power over her consciousness and beliefs — even those concerning the fickle nature of humanity and how they will return to her. It might take a long time, but it is inevitable. This piece also touches on the immortality of Art and how the day will come when Trade will fall because it can no longer be sustained. I really enjoyed the overarching concept established in "Art vs. Trade" and wanted to commentate that it isn't Trade nor Art that takes power, rather it is mankind who makes that choice.
featured image: by Miho Hirano https://mymodernmet.com/miho-hirano-paintings/
image: https://pixabay.com/en/woman-drawing-portrait-person-face-1689410/