The three fires between her and freedom – unbinding:
Passion, Aversion, Ignorance
They put you through it all: their American Dream paved the way from your fantasies to psych ward. Constantly being watched. White linoleum the smell of bleach the taste of pills, the sound of shattered dreams.
Dreams were never worth much anyway; You continue to suffer until life itself seems an adverse side effect of breathing. You're stuck in this body so they take the part of your mind the pills failed to consume and leave you numb to the world around you.
Ray Charles' blues is all you hear: lead by a blind man there is no sense of the direction and the suffering never seems to end until,
Until the key is found.
Found winking in a bag of mislabelled prescriptions and a bottomless bottle of whiskey
You free yourself from the shackles of this body and finally-
After the never-ending pain –
You are free of it.
–Nirvana
Inspired by Claire, Elissa, and Liza's Poetry Seminar on Allen Ginsberg's "Kaddish".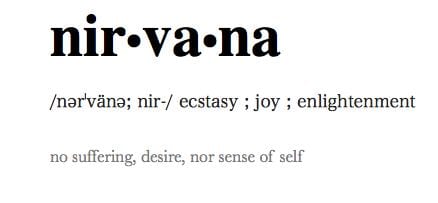 ---
---
Credit where credit is due:
Featured image: "Confused" by Meph
https://giphy.com/gifs/illustration-confused-travel-l0Iy7IsC84uQksg1y
Closing image: Nirvana definition
http://canacopegdl.com/keyword/nirvana-meaning.html