Platonic intimacy is defined as the act of making yourself mentally, emotionally, and physically vulnerable to your friends.
---
---
: ( :
I can feel my thigh falling asleep under her head but I don't think I can bring myself to wake her: she looks so pretty with the blue light on her face. She looks so comfortable. The issue isn't my thigh – I don't really mind being numb for a little while longer – I just can't tell how long I've been watching her instead of the screen. Odd.
"Is there a reason you're staring?" Uh oh. "Did you need something?"
"Sorry."
"Weirdo," she giggles as she sits up. Before continuing, she furrows her brows and locks eyes with me – suddenly serious, "You know you can tell me anything, right?"
"Anything has its limits."
Silence.
"I just mean if I told you all the things that went on in my head, we probably wouldn't be friends anymore."
Silence.
"I'm sorry."
Silence.
"I wish you didn't do that," her heavy sigh breaks the silence, "You don't have to apologize for your emotions all the time. You're allowed to be human."
It's easy for her to say things like that. She's gorgeous and intelligent; she can walk into the world unapologetically without anyone batting an eye. She knows who she is, who she wants to be and no one has to like or approve other than herself and God.
It's never been that simple for me though.
I just can't understand how you're supposed to love yourself when there isn't anything about you worthy of love? It's almost funny how terribly cliché that sounds but perhaps that doesn't make it any less valid just some sort of universal suffering: The Mantra Of A Sad Teen. It's all futile in the end though. I can never make myself small enough because someone's always watching, waiting for you to slip up. Someone's always judging.
I can feel it – she's watching me know. My face is burning under her glare. I know what she's thinking: just talk to me, please but, really, what's the point?
"You look good in blue light."
"You have to say that."
"Hmm?"
"In order to fill your role of friend, you have to say nice things. It's in the description"
I cuddle into her in an attempt to move on from the conversation at hand. Within moments, she picks it back up again saying, "There aren't roles or descriptions: this isn't some film."
"I wish it were."
Films are simple. Everyone has a role to play because there's more than enough side plot and fantasy for every single character to develop. Films are better. Most days, I wish I were the leading role in an indie classic; a cinematic wonder about coming-of-age or love – like in 1 Night. Those kinds of characters are special. They're the lovers and they're the loved. Their import isn't questioned because characters like that are pivotal.
That doesn't sound very much like me…
She speaks softly but I can hear her voice breaking. "You're important to me."
I quickly shift to see her red-eyed; I whisper, "Why are you crying?"
"You just don't get it, do you? You'll never understand how vital you are to me! You don't have to be special to matter… why can't you see that?"
I didn't mean to say it aloud. I hate seeing her cry.
"I'm sorry."
"Please. Stop that. Aren't 2:00 am conversations meant to be genuine, leave-it-all-on-the-table types? There's no need to be sorry."
Silence.
How does she do that? All at once, she is smiling and crying: both genuine yet undisruptive of the other. In that moment, she is the most beautifully complex person I've ever had the honour of knowing.
"I love you."
She holds my face an inch from hers and presses her forehead against mine, "I love you, too."
I wipe her tears. "Okay," I say. We breathe each other in and I feel safe, "Can I have some personal space now?"
Light chuckles.
I hold her against my chest for a while and, gently, I kiss her forehead. We watch Lady Bird for the fourth time, in silence.
"You're not alone," she says without looking at me, "Sometimes, I just really want to die."
She giggles. Then I giggle. Neither of us is laughing.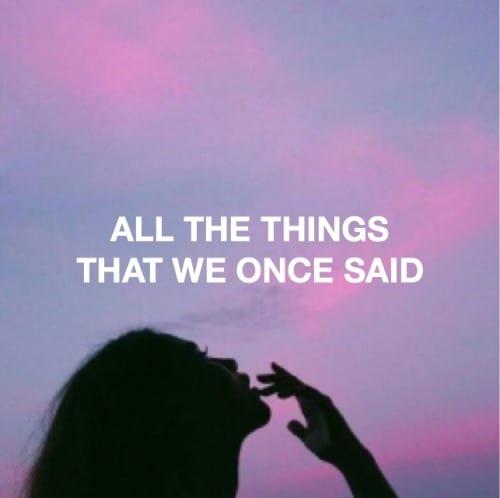 ---
October 10, 2018, was Mental Health Day and seeing all the love and kindness people are able to spread online inspired me to write this piece. It is also inspired by the conversations I have had with my marvellous, but broken, friends. To my dear friends: please know you are deserving of love and we'll survive this whole high school/ life thing somehow. I won't make empty promises about a tomorrow I have no control over but, for today, I've got you. You're not alone and I love you all.
---
All images used are not my own, all rights to original owners. Photos are taken from:
https://favim.com/image/5241749
https://78.media.tumblr.com/88e40dfd101bc22b3dc045e3f5c3479f/tumblr_oisjlgRmOl1vncoo3o1_500.jpg