The following is a monologue from Blanche's perspective; it takes place in scene 7, just before she begins singing (page 120). 
---
That wretched Polack! That monster of a man!
[Mimicking]  
"Canary bird… Lies… Not respected by any party…" Oh, he is going to be the death of me! He repulses me! I don't know how much longer I can take this… I don't know how Stella – my Stella, my Stella for star – can live with such a bestial creature. Surely, he takes pleasure in plucking the wings of butterflies, making them into nothing but creepy, ugly, lifeless insects. Surely, he takes pleasure in staining pretty white roses and revealing their thorns. And surely, he takes pleasure in his sadistic manner of waiting to play his ace. He knows I can hear him – he just knows and he is doing it deliberately, to pull on the strings of my delicate little heart in all the wrong ways.
He wants me to leave and to go back on that dreadful streetcar to where I came from.  But I won't have it. No, I will not have it! I will not let some common man trump me! I have fought too hard, bled too much! I will just not have it! He thinks he is hurting me but doesn't he know that even a moth as filthy as I can fly!  That I can dodge his blows! [Pauses, shocked at herself.] Oh… What is happening to me? It's my birthday! I must get a hold of myself… [Pours water gently over her head.] There is nothing a little water cannot wash away… There, there. [Giggles and speaks airily.] He raises his voice to make me hear those cruel words, to make me feel them slam against my heart. He raises it to make me leave… But now, honey, it's time to raise mine. [Blanche begins to sing "But it wouldn't be make believe if you believed in me."]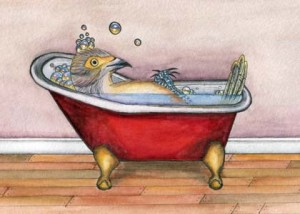 ---
References:
https://www.etsy.com/listing/24814275/antique-art-engraving-emperor-moth
http://aliciaweller.com/2011/10/23/bird-bath-watercolor-ink-illustration/