Without a doubt, one of humanity's darkest times were those of the Holocaust. There was mass-murder; men, women, and even children were killed, their bodies piled up on top of one another. For what reason? Did these people commit atrocities so great that even their children had to be killed to atone for their sins? No. Was it because they were criminals, sentenced to death? No. Did these people rebel in any way, shape or form, against higher authorities? No. Their only crime, their only flaw, was that they were born Jewish. Nothing else. They worked hard. They cried, loved, fought, befriended, and laughed. They had successes. They had failures. They had families.
They were people too.
The person who is responsible for the mass-murder of these PEOPLE is none other than Adolf Hitler, who was the leader of Germany, as well as the one who started the holocaust. The reasons he had ordered such an atrocious act is nigh impossible to understand, although it is known that he did not consider the Jews actual PEOPLE. They were considered to be lower than insects, killed whenever they were seen as a nuisance. They were forced to work, which was the only way for the Jews to live at the concentration camps. They were given little food, little rest, little comfort. Their lives were made into a Hell, all because of a deep hatred. This hatred is shown in many of the novels released about the Holocaust, as you see the terrible acts the SS soldiers carry-out against the Jews, and some of these acts are just so terrible that you have a hard time believing them to be true; however, regardless of all that, the Nazis were also human. They had families that they would return home to. They were capable of enjoying their lives, of showing human traits (although the darkest of human traits). They were capable of loving someone.
They were people too.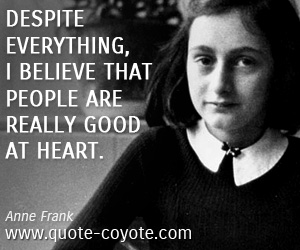 We have studied quite a number of texts about the Holocaust, such as Night, by Elie Wiesel, "Life is Beautiful", by Roberto Benigni, an excerpt on An Epilogue: The Next War, by Gustave Gilbert, among others. These texts present different perspectives on different situations; however, in all of the texts, the people we feel sadness for, is the Jews, and for me, the people whom I dislike, and see as "Pure Evil", would be the Nazis. In every single text. One of these texts is even written by a German journalist. If we can see these acts as being so monstrous, then why couldn't the Nazis? Weren't they like us, like the Jews at that time, people, born into this world? What made them so different? How did they not see what they were doing to the Jews? How is it possible for one human to slaughter other humans, without showing the slightest feeling of remorse?
After all, they were people too.
"You never really understand a person until you consider things from his point of view … until you climb into his skin and walk around in it."
-Atticus Finch in To Kill A Mockingbird (by Harper Lee)
We could try to look at everything from the Nazis point of view to understand them, but even when I do, I can't seem to hold onto any reason to hate the Jews. I can't find any reason to kill their children, even after researching on the history Jews and contemplating about what the Jews have done, I can't. It goes the same way for the Jews; although it is much easier to find motivation behind the action of the Jews, there's not really a reason as to WHY. Why did some Jews choose to accept their death, without fighting back? I believe it to be resiliency against the Nazis, but that may not have been what they were thinking. They may have been thinking of accepting their deaths, or of showing strength in front of their children. We'll never know. Which just shows the impossibility of trying to understand someone else. When Atticus Finch says "…until you climb into his skin and walk around in it", I feel that Atticus Finch is trying to tell us how it is impossible to completely understand another person, no matter how close. It's impossible to climb inside of another person's skin and walk around in it, and that's why I think Atticus Finch used that example. We will never be able to completely understand even our most closest friends, brothers, sisters, or parents, much less the Jews and the Nazis.
The worst sin toward our fellow creatures is not to hate them, but to be indifferent to them: that's the essence of inhumanity.
-George Bernard Shaw
The Nazi's could not have thought less of the Jews; they were even lower than the smallest of insects. The Nazi's were the most superior race, every other race being inferior to them, but the Jews race could not have been allowed to live on. So the Nazis resorted to murdering them. Their men, their women, their elderly, their children. All of the Jews. The execution methods were not peaceful either. Mass-murder was committed through gas-chambers, firing squads, or even slowly through starvation. It was all a matter of utmost superiority, and extreme inferiority in the minds of the Nazis. We cannot do the same in this generation. We have to be able to look at each other, thinking, "I am not greater than you, and you are not greater than me. We are equal.", rather than, "I am standing at a higher position than you, and that means I am greater than you". This includes everyone, even the Nazis, even the most evil people in all of history. No exceptions. This is extremely difficult, in fact, I'm having a hard time with this. My heart and mind are conflicting over this certain idea of "Everyone is equal". My temporary solution to it, is to ask myself:
Aren't they people too?
-Rehman