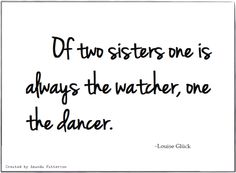 We stood in the empty theatre hand in hand. Her hair told tales of sunshine and her eyes whispered stories of laughter and warmth. I watched her glowing in the soft light of the stage, those eyes flickering in a sad acceptance and determination, not wanting to say anything for fear of breaking out into tears. When she turned to look at me, I could see that we shared a similar gentle kind of sadness, for where it made my chest hurt, it lay in ripples of silver in her eyes.
"So this is it," she said.
"This is it," I whispered.
She hugged me then, and I felt as though the weight that sat in my chest was too much to bear as I hugged her back. This was a sadness that I had never felt before; I physically hurt from the isolation that it left in the cavity behind my heart, could feel a sharp pain as it caught in the spaces between my ribs, noticed how every time I blinked, tears threatened to spill from eyes that ached from a pressure that throbbed against hurricane irises and eclipsed pupils. This was a pure sadness. The kind of sadness that was complicated in its simplicity, the kind where it feels how autumns look. The kind that smells like the nostalgia of a warm summer day in the moments  just before dusk, when the sunlight catches the air in such a way that you can see particles of dust floating in a haze before your eyes. That kind of sadness.
We stood in the empty theatre, wrapped in each others' embrace. Her smile no longer reached her eyes, and I could hear the miniature tempests in her tears as they fell in droplets down her face and into her hair. Something about the way that I felt her crying into me made something inside of me snap, and then I was crying too. I tried to suppress the sobs that were attempting to break free from my throat even though I felt like my chest was going to explode, for I knew that if I broke down entirely, she would fall apart too. We broke apart slowly and carefully, like each was afraid of shattering the other.
"Goodbye," she said softly.
"Goodbye," I breathed.
And then I watched her walk with her head held high to the foot of the stage. Just before she took her first step onto the stairs, she turned to look at me. She waved. I waved back. Though the gesture was simple, it spoke to me in ways that words never could. And I knew that this really was it. She stepped onto the stage, and found her light. I didn't really get to see her perform because I was crying too hard. I knew she wouldn't be able to hear my sobs and so I let go. I might have been able to pretend that I was okay if I had cried with actual tears. Instead, no sound nor tear came out. That is the worst kind of crying; where you try to scream but you can't because you have passed the point of all sound. The kind of crying where this constant pain in your chest prevents you from stopping, and you feel like you can't breathe because of the pressure in your lungs.
I had to leave before her performance was over; had I stayed to see the end, it would have been too final for me. As I turned to leave, I looked at her one last time and smiled a sad smile. That is how I wanted to remember her–the way she was at that very moment. She was one of those people who was born for the stage, and she was at home there. I knew that this would be the last time that I would see her perform, for she was leaving for good the next morning. And so, quietly, I left the theatre.
https://s-media-cache-ak0.pinimg.com/236x/7b/2e/74/7b2e74e143bbdde019818b8578e2acdb.jpg