It's the song, they said.
No, the sea. The luxury. The ship.
It's the sex, they whispered.
Leo, said Aziza sheepishly. It's all about Leo.
"Everybody wants Jack," Laila said to Mariam. "That's what it is.
Everybody wants Jack to rescue them from disaster. But there is no
Jack. Jack is not coming back. Jack is dead." (270)

A Thousand Splendid Suns by Khaled Hosseini
Allow me to begin by proclaiming a simple truth:
Our world is fueled by desire.
This desire can take the form of many things, many thoughts, many ideas – it can be the desire for an eternal summer. The desire for a life without death. The desire for someone to hold us just to never let go, pressed gently against the warmth of a love ready to face the cruelty of an imminent winter. It can even be the desire for a saviour – salvation clad in the form of Prince Charming, eager to rescue the pretty damsel-in-distress and whisk her away to his castle where they would live happily ever after.
If only our world worked that way.
Even reality has caught up to the pages of our books, a fact made especially evident in Khaled Hosseini's novel, A Thousand Splendid Suns, set in the tumultuous time of late twentieth-century Kabul, Afghanistan. In its broken pages, its characters are continually bombarded by the worst of life's many trials – a war against a ruthless foreign power, the loss of close friends and family, a drought wringing life itself from a city once fed by a bountiful river, and a new terrorist government tearing a still-healing nation apart. The quote above takes place during the summer of 2000, dubbed as the summer "Titanic fever gripped Kabul". In it, Laila, along with all of Kabul, attempts to provide justification for why she believes the Titanic has placed them under such a spell. In regards to what it means in Hosseini's whole novel, however, the quote provides an even deeper insight – Kabul is growing desperate. Under all the pretense and excuses put forth by its citizens, is the desire for safety and security, one present within every human heart longing for refuge from a world fraught with chaos.
Evidently, the lives of Hosseini's characters are far from happy, but even this does not quench th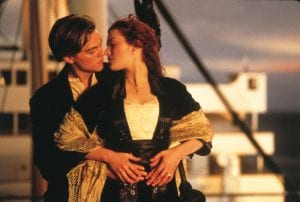 e intensity of their desire, nor should it. If anything, it only served to strengthen their human longings, a form of which was made manifest in the character of Jack Dawson – from the 1997 film Titanic – who was a poor country boy working as an artist in the streets, gambling money and stowing away on ships just to get by. However, it was his role in liberating Rose DeWitt Bukater, an upper-class girl from Philadelphia, that won him the image as Kabul's potential saviour. Enslaved by a life of frivolous social parties and pointless etiquette, Rose finds the spirit to follow her dream to explore the world, a dream that is forced to begin on the strength of a promise, whispered by a dying breath in the waters of the frigid North Atlantic. Regardless, Rose finds the will to pursue her own path in life – one made possible by Jack's saving sacrifice.
Despite their most fervent hopes, however, Kabul's citizens never get the salvation they desire. Their beloved city is set ablaze by the brilliance of a thousand balls of fire, not of suns, but of a thousand bombs and bullets. Thus, their dreams of a free Kabul are never fulfilled, remaining as dreams left to be dreamed, only to join the ranks of other desires left unsatisfied:
Nana's desire for acceptance, deprived in the wake of a sin long-committed.
Jalil's desire to be with his daughter, unrestrained by the expectations of society.
Laila's desire for Tariq's touch again, its forbidden fruit disguised in a loveless marriage.
Mariam's desire to love and to be loved, hidden in the lonely face of a harami.
Their desire for the Kabul of a thousand splendid suns.
Following in the footsteps of Hosseini's writing, then, I wanted to explore the theme of desire, albeit through the lens of my own upbringing. Aside from a childhood love (or obsession, I should say) for the Titanic and the tragedy surrounding it, I grew up in a home full of faith. As the child of devout Christian parents – Roman Catholic, to be exact – I chose to incorporate elements from a desire I knew best, namely, the desire for true happiness and eternal pleasure in a being some say is the root of all earthly happiness and pleasure. Thus, I chose to incorporate God, a god who is Love itself. In addition, I chose to interweave Biblical imagery in the poem, as well as a Latin prayer written by the early Christian bishop and philosopher, St. Augustine of Hippo:
Fragrasti
It's His voice, they said.
Music of timbrel and lyre.
Breath like apples.
Lips dripping of nectar.
Enchanting. Alluring. Bewitching.
et duxi spiritum et anhelo tibi
No, His mercy. His beauty. His perfection.
Fragrance of perfume.
Kisses of his mouth.
Spiced wine.
Surrounding. Consuming. Intoxicating.
Gustavi
It's His love, they whispered.
Well of living waters.
Pomegranates in bloom.
Flashes of fire.
Lasting. Enduring. Undying. Forever.
et esurio et sitio
Everybody wants Him. That's what it is.
The poor.
The hungry.
The stupid.
The foolish.
Tetigisti me
Everybody wants Him to rescue them from disaster.
Distress.
Despair.
Death.
Damnation.
et exami in pacem tuam

But there is no God. God is not coming back. God is dead.
I decided to write this piece from the perspective of one struggling in his faith, one who, despite what he has learnt, finds it difficult to embrace the idea of an unseen love, regardless of how desperately he wishes to believe. I did this to emphasize the idea of unsatisfied desire, a concept best explored through the one from whom all desires spring. According to traditional Catholic theology, God is the root of all human desire. In fact, St. Augustine (the author of the Latin verses within the poem), had this to say about desire:
"You have made us for Yourself, O Lord, and our hearts are restless, until they rest in You."
St. Augustine
, as history tells us, knew better than almost everybody. As a convert from a hedonistic lifestyle, he found himself familiar with the intoxicating pleasures of sex and other "youthful passions", as well as with the pain in realizing that its happiness was finite, its bliss swift and fleeting. He realized that his passions could only be tamed and his longings satiated by the One for whom his heart was created – He realized his thirst for God.
In my poem, I wanted to express this longing; by choosing to use fragments of Biblical verses, rather than complete sentences, I attempted to paint a picture of an almost wild, chaotic, and untameable hunger for everlasting gratification. Just as in Khaled Hosseini's novel, though, the individual in the poem fails to grasp the fulfillment of his desire, and it is in this way I chose to emulate Hosseini's work. In it, I hope to have captured the pain, anguish, and the aching loneliness of a heart stricken with love unrequited. What happens after the poem, however, I shall leave up to you, my readers, to decide. After all, even Kabul today is witnessing, once more, the majesty and splendour of its famed thousand suns.
"You breathed Your fragrance upon me,
I drew in breath, and now I pant for You.
I tasted You,
and now I hunger and thirst for You.
You touched me,
and I burn for your peace."

St. Augustine of Hippo (c.354 – 430)