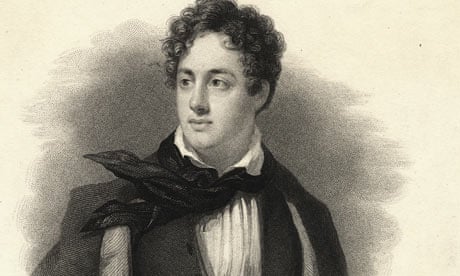 Biographical Analysis of Lord Byron's The First Kiss of Love
Prompt: Discuss the idea(s) developed by the text creator in your chosen text about the ways in which individuals pursue or compromise their happiness.
---
          Much like the individual depicted in Lord Byron's The First Kiss of Love, Lord Byron often battled between pursuing happiness or ultimately compromising it to satisfy others. Defiant, melancholy and haunted by secret guilt, the Romantic hero Byron often portrayed in his poetry closely resembles Lord Byron himself. The reader's understanding of the feelings Lord Byron chooses to share can reach even deeper, knowing exactly how the author viewed love in his own life. It is a well known fact that Lord Byron has been accounted in being with several men and women in his lifetime. Being described as an"ebullition of passion" and a "violent, though pure, love", Lord Byron's love affairs were often intense and emotional, however easily short lived. This at the time was of course taboo to many, while this poet believed wholeheartedly in self-revelation and freedom for oppressed people. Through the course of his life it can only be assumed that Lord Byron, bombarded with society's ideas of the perfect life, ultimately chose to pursue passion and close intimacy in a love many could only imagine.
          Byron's idea of love was so different from the society around him you could almost say he was a man out of his time. Naming Alexander Pope as his master, he reflected Lord Byron's ideals: never losing touch of reality and being a deist and freethinker. He believed in realistic love, and not in the love many poets conveyed to their audience. Lord Byron saw it to be fictions of flimsy romance, and not the truthful and true passion he had experienced himself. The poet was confident and strong in his beliefs and frustration can easily surface when people don't understand your viewpoints. Lord Byron took his experiences as a lover, looking factually with the world he knew, and shared it with The First Kiss of Love.
          At one point in Lord Byron's life, he developed a lifelong love for the Bible. Demonstrated in the poem, he ties in both knowledge and his values with allusions in stanza number six. Readers see through his writing that, in fact, Lord Byron was interested in the Bible's content enough to connect it to his own life. The poet also sheds light on to the reasons as to why he had an abundance of lovers. Driven by fleeting romance and the excitement of passion with a new love affair, the first kiss of love consumed him. At one point in his life he had fallen madly in love with Mary Chaworth, his engaged distant cousin, enough so to interrupt his education to be near her. Not to mention, he defied society's influence and continued to have sexual relations with both men and women even out of wedlock. Lord Byron stood by his beliefs and what made him happy to experience a fulfilled life. During stanza number four, the poet states,
"Though prudes may condemn me, and bigots reprove,

I court the effusions that spring from the heart,

Which throbs with delight to the first kiss of love."
Readers without a doubt receive a closer look into Lord Byron's values. He continues to illustrate that the opinions of others have no matter, and that love is far more important than a thing so trivial such as reputation. The poem exemplifies the often passionate and pure love Lord Byron experienced throughout his lifetime, and his belief that the choices he made were undoubtedly worthy of pursuing happiness.
---
Bibliography:
Photo Creds:
https://i.guim.co.uk/img/static/sys-images/Books/Pix/pictures/2010/1/22/1264171951832/Lord-Byron-001.jpg?w=700&q=55&auto=format&usm=12&fit=max&s=0050bdced70bc701f5218c1961151381