I was born on August 5th, 2003. My sisters and I were born in Calgary before we moved to China to live there before grade school. Every day I try to remember the beauty of life and strive to live through gratitude and love. I recognize that the life I have been given is far higher than the lives of others, and I choose to live it to the best of my ability.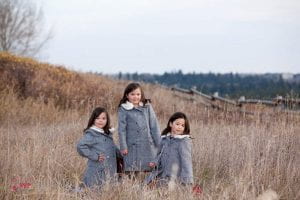 I was born a triplet. I love my sisters to the ends of the earth- they literally mean everything to me. I don't think there has been a single event in my life that they haven't witnessed or know of. The hardest part about being a triplet for me is the comparisons and pressure to live off to the standards of my sisters.
I have been attending FFCA ever since I was in kindergarten. It is a massive part of my life and my identity. Even though I may joke around that I secretly want to drop out, I love this school and will miss it when I graduate.
My entire life, I have always been a Christian, and my religion is a massive part of my life. My faith keeps me going when I can barely get through the day. Being a Christian means more than just believing in God and the Bible. It means living a life of love for God and his creation. It represents who I am and what I believe in.
My mother is Chinese and never fails to teach me about our culture and language. Although I can't read or write Mandarin, I can speak it fluently and love learning about it. My favourite thing about Chinese people is their pride in their country. They are undeniably the proudest of their culture than any people I have seen. I want to be like that always.
Theatre is my largest passion; what I love to do. I think that theatre is the best way to tell a story, to share a message. Everytime I watch theatre, any pain, annoyance, distress that I was once carrying, was lifted from my shoulders. Whenever I am on stage, I strive to give that effect to an audience. Although it is not something I want to pursue after graduation, I don't think I will ever stop being a part of some theatre community ever for as long as I live.
My family has always encouraged me to be the best that I can be. To be number one in my own life. I think that there may be times where I take being number 1 too seriously and become very competitive. My goal this year is to not take life too seriously and try to live out my life the happiest I can, and enjoy life as it goes.
This is the most important picture in my entire pechakucha. My mother is my number 1 inspiration. Not only does she work a full time job and raised triplets as a single mom, but this year she just graduated with a Master's Degree! I am so proud of everything she did, has done, and will do, as she is constantly surprising me with her work ethic and perseverance.
This is one of many photos that I have of my friends and I. My friends are always there to keep me going and are there for me everyday of my life. I am learning more about them everyday and my gratitude for them grows everyday. I pray that I will never leave my friends and I hope that we stay in contact for the rest of my life. Surrounding myself with like-minded people and loving humans is about 99% of what I need as a person apart from oxygen and water and food.
My biggest goal for this year is to not take life so seriously and try to enjoy it as much as I can. I tend to be someone who tries to be perfect and organizes and live my life very routinely. Now I want to just try and live life one second at a time, not worried about what is coming ahead and trying to plan out every part of my life. I try not to worry about too many things because I think it just puts you through the pain twice.