There are no words that effectively describe the horror that fills my body when someone says the words, "Introduce yourself." Unarguably, it was as if time had stopped around me when Ms. Hunnisett assigned it as the topic of our first presentation. The only silver lining around this thunder cloud was the fact that it had to be done in three minutes and twenty seconds in a format known as the 'pechakucha'.
Hours upon hours of brainstorming and I couldn't come up with what anything that will help my audience gain an insight of who I am. No. Nope. Nada. Zilch. Zippo. I was shutting down all of the ideas that came into my mind, but then one sleepless night, a light bulb went off. There is no use in telling my audience about me because that creates a bias in their opinion of me. The only way to do this is to let them form a raw and unbiased judgement of me.
So let's take a peek into this abyss of a soul.
The first thing I wanted to talk about is my name: Saumyaa. The word 'saumya' means to be soft and gentle. The bearer of this name also has a kind personality. The reason why I wanted to start off with my name is because whenever we hear someone's name we begin to form a silhouette of them in our minds. We begin to mould their personality, their mannerisms and their voice by only having their name as a basis.
(Image: My parents and me)
I was born sixteen years ago to a very loving family in a small town in India. I was quite fortunate to have been born in a family that is very understanding and support my decisions.
Quick fun fact: I was born in my own house. My paternal grandfather is a doctor and at that time we had a hospital cum home situation, and yes, that was legal at the time.
(Image: paternal grandmother and two/three day old me)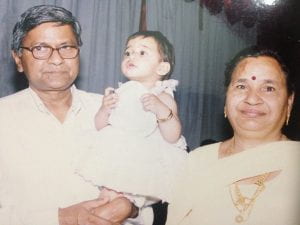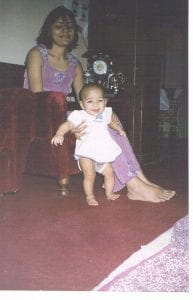 Growing up, both my grandmothers and my mother were prominent figures in my life. They were and are some of the most courageous people I have come across. They are the ones who showed me that no mater what anyone says or what situation life throw you into, if you can stay brave, you will get through it. I believed that I could endure anything that life could throw at me.
(Left image:maternal grandparents and me; Right image: mom and me)
Then, life threw me a curve ball.
In 2008, my parents were presented with the opportunity to go to Australia and set up a better life for us. The catch? I couldn't go with them. They didn't want to disrupt my budding education and my familiarity of environment. The only thing I heard from our conversation was that my family was breaking apart and my parents were leaving me.
My world had shattered. I felt all alone even though my family had made it their mission to help me not feel my parents' absence. Everyone kept saying how amazing it was that my parents had been presented with this opportunity and seeing how everyone kept glorifying the situation, I tried my best to stay strong. The only problem was that I couldn't, I was a child at the time, a child who craves parents. Undoubtedly, I soon left my parents in a situation wherein they had no option but to come back to me.
For a while everything went back to normal…
Then in early 2013, something happened to my maternal grandmother. She got deathly sick and none of us grandchildren were told what had happened to her. All we knew that it was bad because she was getting weaker by the day and she was visiting the hospital way too often. One day, I heard the word chemo and it fell into place. It had become a waiting game.
The cancer wasn't even the biggest problem, the problem was that nobody wanted to talk about it. Nobody wanted to talk about what she was going through because it would confirm the reality of the situation and none of us were ready to face it. The silence got to a point where nobody even told me that she had left us. I still remember that night. My parents were at my grandmother's place and weren't back yet, it was getting late and I had school the next day. My aunt received a call and came into my room and told me that they wouldn't be coming home tonight as my grandmother had gotten sick and I was not to go to school tomorrow. Early next morning my parents returned and told me to get ready. We drove to my grandparents' house and everyone had a sorrowful look on their face. My grandfather's brothers had come down from the village and everyone was crying and i couldn't figure out what had happened because my parents had told me that was at the hospital. And then, I saw her. I couldn't stop myself from crying but I had to put on a brave face for my younger cousins.
Both these experiences taught me contrasting lessons. The Australia debacle, as I like to call it, taught me that there comes a certain time where expressing all your emotions and opinions can hurt those around you. It is more beneficial to keep those to yourself. Then the death of my grandmother taught me that keeping in your emotions and thoughts can break you down till there isn't anything left. You need to talk about the situation because if we keep avoiding it because of the fear that it makes the situation that much more real to deal with, then none of us will ever be able to get through any tough situation.
The next significant chapter in my life took place in 2016. The year I was going to become a teenager. Although me becoming a teenager is a noteworthy event, it isn't in this situation. My parents had another big news for me.
This time we had the opportunity to migrate to Canada. Note the  use of the word 'WE'. This was quite a bittersweet decision for me. I am an absolute patriot and no matter what I will always defend my country, India and India is the only place I had ever known. I had never been to foreign country much less into a whole another continent half way across the world, but in this situation I felt this might be good for me. After my grandmother's death, I had fallen into a vicious cycle of bottling up my emotions no matter what I went through.
So, coming to Canada was quite a positive change for me. I had found a path that lead me to a place where I learned how to express my emotions again and find joy again. Although coming to Canada has caused me to miss out on a few things back home and made me that 'cousin from foreign', it did me some good mentally. I found a place where it is okay to talk about your emotions because culturally, in India, one doesn't usually talk about their emotions unless they are of happiness and joy.
Remember when I said that I was turning thirteen in 2016? It truly was a unique celebration. I spent my birthday in four different airports, in three different continents. I'd say that it was pretty special birthday that year.
Now I can't say that I have been able to completely overcome my hesitation to share my emotions. There are times when I feel it best to keep it inside. There are also time when I feel like I'm all alone, but I'm learning and I'm growing. And I think that is exactly the point here.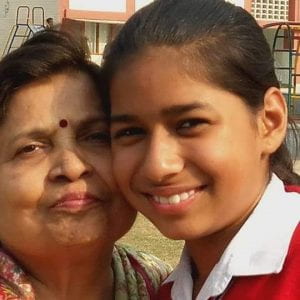 In the end, I believe that everyone comes back into a circle either literally or figuratively. One way or another, all things find a way to end where or how they began. This is why I wanted to bring in a circle ending to finish this where it began.
(Image: Paternal grandmother and me)