This is a PechaKucha that I did in class on A Streetcar Named Desire by Tennessee Williams. PechaKucha is a presentation style in which 20 slides are shown for 20 seconds. For our purposes, we had 10 slides that were shown for 20 seconds; this is meant to be a short and concise style that gets an idea across. This looks at Blanche DuBois' perspective on love being altered and "corrupted."
---
Blanche DuBois is described as a sensitive girl by her sister and that is reflected in her pursuit of love; it had been through Allan Grey, her young husband. She had been sixteen when "[she] made the discovery – love." With him, she learned what love was and she would never have given it up; "Blanche didn't just love him but worshipped the ground he walked on!" She let love consume her because
it was like someone had "turned a blinding light" on the world. An understanding about life that was not possible without love. A world "half in shadow" now bright in her eyes; she would never have traded this for anything. But this love wasn't the same for Allan
who used Blanche. He didn't love her like she loved him, "he came to [her] for help." But Blanche was unaware and found herself "slipping in with him" into "quicksands" – she couldn't help either of them, not him and certainly not herself. The Grey boy was not hers and he would no longer be the world's either; "the searchlight which had been turned on the world was turned off again" and Blanche found herself
finding solace in "intimacies with strangers." Lust took the place of love because she sought something that Allan didn't provide her – the feeling of being desired. She didn't want to lose the sight love had once provided her, so she didn't seek love. But this pursuit is one that is criticized and she is forced to leave; it is
the streetcar named Desire that "brought" her to Elysian Fields. The desire for love that had been destroyed; the desire for lust that had destroyed her. All she had wanted had brought about her downfall and she left to New Orleans to leave her past behind. But it is the past that dictates our actions, no matter how much we try to avoid it, and Blanche is no different. And it is our environment that dictates our perspective and
Stella and Stanley only furthered Blanche's corrupted views on love. They didn't have the gentle, kind love she had felt with Allan – it made it seem that such love was only possible in illusions. They depended on each other through lust and primal urges rather than a connection through the heart, but that was enough for them. But amongst all these deterrents, Blanche still found herself seeking love but in the form of
a sheltered light cause she could no longer stand the sight of a "naked light bulb." If she were to love it would be in her control; she didn't want to risk getting hurt again – she didn't need the "spotlight" because she didn't want to risk losing it again. But Mitch was different, he was "sensitive" like her. With him,
the light came from candles, gentle. She didn't see the world like she had with Allan, but she felt warm. She had protection. Blanche didn't feel scared of losing sight because it was only a small light – but it could grow. And grow it did. The trouble with fire, in any form, is that it can't be controlled and it can burn. And burn it did as
Mitch couldn't love her after learning about her past and this causes Blanche to lose the last hope she had. "Fire! Fire! Fire!" She cannot take it – her pursuits of love have, in the end, been pursuits of failure. Who could love a woman like her? A woman who didn't know how to love. A woman who didn't know what love was. A woman who lost all: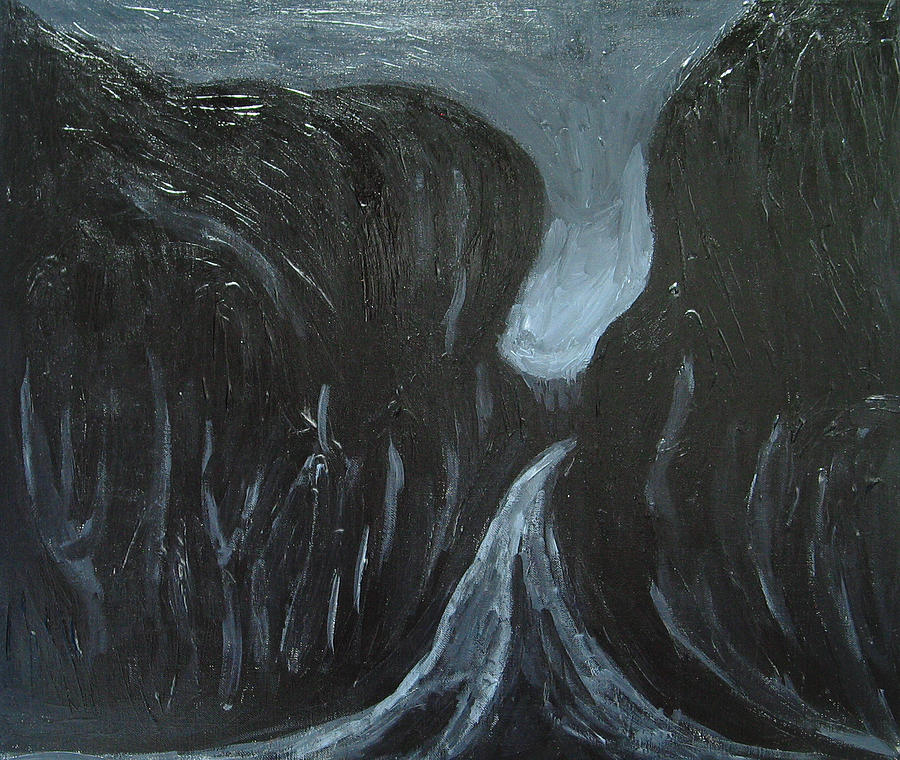 all light, all sight. Her descent into darkness because of love; rather the corruption of love. The loss of who she was with the loss of love. Love lost because of lovers and family alike. Maybe that is why she "always depended on the kindness of strangers."
images in order:
Clark, Christopher. Red Umbrella Romance.
Legarde, Lourry. Dark to Light.
Banksy. Girl and Balloon. 
Afremov, Leonid. Hug of Lust.
Parks, Dianne. A Streetcar Named Desire.
de Toulouse-Lautrec, Henri. In Bed, The Kiss.
Petrisin, Laura. Chinese Lanterns.
Rosierse, Johannes. Candlelight.
Afremov, Leonid. Flamenco and Fire.
Akimoto, Kazuya. Dark Street.