Orlando, Florida Review
Over the November break I had the pleasure of staying in Florida with my family for a getaway from life – we left Calgary on November 8 and returned late November 19; during these days, I spent time with 5 family members (parents, siblings, and my aunt). Although this is submitted super late (sorry!) I've decided that for my free choice I wanted to write a little review of my thoughts on the different aspects of my trip – perhaps when I'm 30 I'll remember this blog and read it again reminiscing the amazing trip I took when I was 16.
I will be discussing my thoughts on the resort we stayed at, a local restaurant that we went to, and the parks we visited.
World Quest Orlando Resort
My parents decided to book a room in the World Quest Resort; what pushed them towards this resort over other possible options were the following…
1- They got a discount on it.
2- It's located near the Disney parks.
3- It looked spectacular on the website.
Honestly, I wasn't expecting such an over the top hotel and was shocked when I got a look at it on the website – it was unlike any other hotel I was used to. The first day when we showed up to check in I remember getting a glimpse of how big it was and thinking to myself that we took a wrong turn (LOL) and was even more shocked when I was greeted with a gate and security upon entering. Even in the lobby, I recall looking out the windows and seeing the outdoor pool sparking my excitement for my days to come – it's not everyday that I get to relax in an outdoor pool! Even the room itself was bigger than expected or needed to be honest.
Overall, the resort was amazing, there are only a couple of drawbacks that I can come up with: there was a serious cockroach problem in our room which made me squirm; also, something else that was a bit annoying, was that room cleaning costed $40 a day. Without those two inconveniences, I would probably have given the resort a 5/5, but I just couldn't get past the cockroaches and insane room service pricing, lowering my rating on this hotel from a full 5 stars to a 3.5/5.
A couple of photos I found on the resort: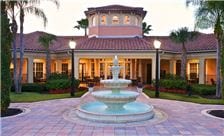 Oreganatta
One of the days of the trip my mom and aunt decided they wanted to take a break from cooking and instead eat out; my aunt had been saying that she wanted to go to an Italian restaurant since the start of the trip and strongly advised for us to try out this all you can eat Italian buffet she found on the internet – and so we did. Sadly, before we had left for the restaurant my hunger got the best of me and I started snacking on crackers alas by the time we arrived I was no longer starving which was unfortunate because the food was delicious – I ended up getting pizza, salad, and pasta. As well, the people there were so friendly and welcoming – it was a naturally pleasing environment. To me, this was a highlight of the trip because I was able to spend time with my family while enjoying a delicious authentic Italian meal. I would recommend this food to anyone staying at Orlando. My rating: 5/5
Disney and Universal Studios
The whole point of this vacation for my family was essentially to go to the parks; although we had previously gone roughly 6 years ago to Disney World my parents decided to return because they wanted my little sister to meet the parks as she had no recollection from last time (she was an infant at the time). Even though I had already previously met the parks, I still enjoyed them as though it were the first time all over again. I even had the pleasure of doing one of the parks at universal that I hadn't done the last time and even go on the new rides that weren't available those some years ago.
We decided to go to all four Disney parks and one of the two Universal parks. Each of the days we would awake at 7 am and be out sometimes as late as 10 pm arriving exhausted at our hotel at 11 pm only to sleep for the next day. To say I was starting to get cranky would be an understatement – I was getting annoyed but despite this, the thrill of each ride and the excitement paid off any irritation I had.
My personal favourite park, much to my surprise, was Animal Kingdom; I had previously thought that I would enjoy Magical Kingdom the most because of how it had the most rides. However, I was simply not able to get much of the park done because of the ridiculous wait times; and even though, in Animal Kingdom I experienced similar frustration with waiting 4 and a half hours for the two new Pandora rides, at the end of the day, I felt like I was more satisfied with the rides that I was able to get done like Mount Everest, Kali Rapids, and the Safari.
A couple of photos I took on the trip:
This was one of the most unforgettable trips that I have ever experienced; I feel so blessed and grateful to be given such a wondrous opportunity to enjoy with my family. Even with its chaos and ups and downs, I'm still so glad that I was able to go to Orlando. I only hope that in my future I can have the pleasure of returning to this spectacular city.
Images of the Resort: https://www.worldquestorlando.com/photo-gallery
Header Image: https://pixabay.com/en/parks-orlando-florida-fun-garden-2090602/