Growth Through Flowers and Plants
"The lilacs grew with no care given to them, and in the early summer they hung like bunches of mild mauve grapes from branches with leaves like dark green hearts, and the scent of them were so bold and sweet so you could smell nothing else, a seasonal mercy." – The Stone Angel, Margaret Laurence, pg. 30
In chapter 1, Hagar wears her special lilac silk dress, and scorns Doris for wearing drab clothing. It is noted that Doris disapproves of Hagar's dress, and she continues to wear it in a small act of rebellion. The colour of the lilac draws Hagar into a state of reminiscence, and she remembers that, "The lilac is the exact same shade as the lilacs that used to grow beside the gray front porch of the Shipley place." (30) Upon first analyzing, the section where the lilacs "grew with no care given to them…" indicates Hagar's increasing desire to be independent without relying on someone else's care. As someone with pride as their primary characteristic, reliance causes her to suffer. Although the blind stone angel is more commonly known to represent Hagar, it can be interpreted that the lilac also metaphorically represents Hagar. This is shown in the next section of the quote, where "mauve" is a purple colour that was used to describe the lilacs. The colour purple symbolizes wealth, nobility, ambition, and wisdom. Hagar considers herself the qualities that purple represents. This is evident in Hagar's upbringing; she came from a higher class and was educated in societal manners, academia, and this brought forth the pride that predominates her life. By associating the lilacs at the Shipley place, Hagar implies that she has brought the superiority from the Currie household into the Shipley one. Furthermore, the lilacs have "leaves like dark green hearts…" where dark green is associated with ambition. This can be related to Hagar's wish to become a teacher, but was nonetheless rejected by her father, Jason Currie. On another note, purple lilacs symbolize first love – a portrayal of Hagar's desire to marry Bram Shipley. However, Jason Currie once again rejects Hagar's wishes. It is evident that flowers are a constant motif throughout the novel, as it is used to describe Jason Currie's hold on Hagar.
"…nearly circular beds of petunias proclaimed my father's immortality in mauve and pink frilled petals. Even now, I detest petunias." – The Stone Angel, Margaret Laurence, pg. 68
In chapter 2, Hagar remembers that Currie Memorial Park was built after her father's death, and that petunias were planted there. It is interesting to note that Hagar detests petunias, because they symbolize anger and resentment. This could be seen as Hagar's anger towards her father cutting her out of his will, or for dismissing her ambitions and desires.  However, it could also be interpreted as, in my personal opinion, anger not at her father, but rather herself in which she resembles him too much for her own liking. It is further evident that Hagar has correlated petunias with anger and hate when she assumes that there will be petunias at the nursing home Marvin and Doris are planning to take her to. When Jason cuts Hagar out of his will, she is isolated from her family, and this is demonstrated when neither Jason or Matt show up to her wedding. This isolation is a catalyst for her pride. By becoming independent of her family's help, it is, in Hagar's opinion, a show of strength. However, despite her separation with the family, Hagar stills thinks herself a Currie rather than a Shipley. This is demonstrated through the words, "proclaimed my father's immortality in mauve and pink frilled petals." Jason Currie, although no longer there, still has a hold on Hagar because she still cares too much about her image and reputation. It is in these two quotes that Hagar Shipley's relation to her father, and how pride carried itself through the family, is understood through the symbolic meanings of flowers.
(I decided to combine the matter parts into one for both quotes because I chose them for the same reason.) Symbolism is the use of symbols to represent ideas or qualities that go beyond the literal sense of an object. As humans, we tend to hold value over materials that may not be as significant to a stranger. I have always found this tendency to be fascinating, and I chose these quotes to explore the symbolism present throughout The Stone Angel. As a Canadian in a multicultural school, I am exposed to a mix of perspectives, and culture plays a role in what an individual holds deeper meanings to. For example, in Western viewpoints, the colour red represents anger, while in Chinese culture, red represents good luck and prosperity. It is interesting to see what people associate different things to, and what may be a negative meaning to one, could be a positive meaning to another. Everyday, I am always learning the different things that people hold value toward, and it is a joy to come to an understanding, however small, with them.
Emulation:
The young sprout grew with much care given to her.
And only after she gained the nourishment of others' wisdom, did she finally bloom her own purple petals,
whose leaves now left a legacy with those around her.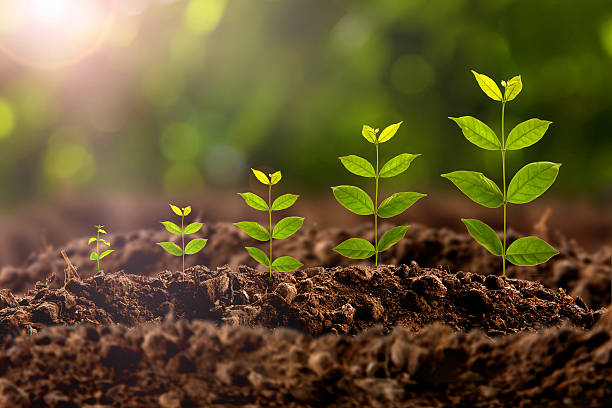 This emulation mimics the sentence structure of the first quote, and represents my view on an individual's growth. The "young sprout" represents myself, and after engaging in experiences through life, I develop my own wisdom from people I meet in my life, which is illustrated in the words, "bloom her own purple petals". I used the colour purple because it symbolizes wisdom. It is the colour that represents my growth as an individual, because through knowledge, one gains wisdom, and therefore, growth.  After my death, the "leaves" fall to to the ground, decompose, and provide nourishment for other plants. In other words, I leave a legacy of my wisdom behind by passing it onto the next generation. This emulation represents my growth as an individual, the day I solidify my beliefs, and the message I want to leave after my death.
---
References for images:
https://media.istockphoto.com/photos/plant-growing-picture-id510222832?k=6&m=510222832&s=612×612&w=0&h=Pzjkj2hf9IZiLAiXcgVE1FbCNFVmKzhdcT98dcHSdSk= 

https://www.google.ca/url?sa=i&rct=j&q=&esrc=s&source=images&cd=&cad=rja&uact=8&ved=2ahUKEwjbwM7ElsPdAhUPCnwKHfauB74QjRx6BAgBEAU&url=https%3A%2F%2Fwww.housebeautiful.com%2Flifestyle%2Fgardening%2Fa3756%2Flilac-facts%2F&psig=AOvVaw0uJuxSMHfN5pJpq79PjO0F&ust=1537312734139541