PROMPT: The Picture of Dorian Gray contains many autobiographical elements. In particular, the three major characters – Dorian Gray, Henry Wotton, and Basil Hallward – all reflect in different ways the character, views, and experiences of the author. Analyze these connections, describing how each major character displays an aspect of Oscar Wilde. Include details from the author's life as well as from the novel to support your answer.
Sarcastic. Witty. Conflicted. Broken. Human.
No words can truly encapsulate the brilliant Oscar Wilde. Tormented by unspeakable desires, yet attracted to the rigidity of the Christian faith, Wilde found himself at the centre of the human spectrum. His morals restrained him, while his desires tortured him. At the same time, he found spiritual retreat in faith, just as his longings freed him. Conflicted in death, just as he was in life, he is hailed by same-sex activists as a protomartyr and remembered by Catholics (known for their steadfast opposition to homosexual acts) as a death-bed convert. In more ways than one, Wilde was an individual full of contradictions, a living epigram in his own right. Talking about his only novel The Picture of Dorian Gray, Wilde once revealed to a journalist that the three principal characters of his novel were aspects of his own image. In its pages, readers get a glimpse of his life as a walking paradox, o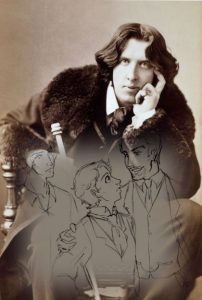 ne conflicted, but truthful:
In the artist Basil Hallward, readers see who Wilde thought he was.
In the gentleman Lord Henry, readers see who the world thought Wilde was.
In the youth Dorian Gray, readers see who Wilde wanted to become.
Through Basil Hallward, Wilde expressed who he thought he was. Like Basil, Wilde was an artist, using the medium of words to paint both the beauty and the ugliness of the world, especially in the late Victorian society in which he found himself trapped. As artists, their works were infused with passion and emotion, all the while concealing their thirst for freedom from social restraints. Wilde was, after all, an influential leader of the Aestheticism movement towards the end of the nineteenth century. He believed strongly in l'art pour l'art or "art for art's sake," and as such, he was not concerned with the morality or political correctness of his work, being concerned simply with art's own beauty. Basil, viewed as a representative of the aesthetic movement, voices this belief when he says, "An artist should create beautiful things, but should put nothing of his own life into them. We live in an age when men treat art as if it were meant to be a form of autobiography. We have lost the abstract sense of beauty" (Wilde 12-13). However, being the contradictory man that he was, Wilde did not hesitate to leave a part of his soul in his novel, just as Basil did in his painting of Dorian Gray when he exclaimed that he "put too much of myself [himself] into it" (Wilde 6). In fact, as an advocate of freedom from the moral limitations of society, Wilde knew how to shock the world with the immoral undertones in his works, especially through the subtle suggestions of the "love that dare not speak its name." This desire for forbidden love is reflected in the character of Basil Hallward, whose fascination and affection for Dorian grows to the point where he confesses to Lord Henry that Dorian has become "absolutely necessary" to him. It was this same love that led to Wilde's imprisonment five years after the publication of his first, and only, novel. Despite being known for his imprisonment for homosexuality, Oscar Wilde was also a devout Christian for the majority of his life. Having been raised as an Anglican, he understood the importance of faith, a belief that Basil shared. In the novel, Basil serves as a moral compass in Dorian's chaotic life; he is the one who believes in the innate goodness of the human individual and encourages Dorian to repent when he discovers his sinful life. Though contradictory, Basil Hallward represents Wilde's view of himself: an artist abiding by the principles of art for it's own sake, all the while being interiorly tormented for wanting to remain true to both his desires and his faith.
Lord Henry, on the other hand, represents how the world saw Oscar Wilde; in other words, Lord Henry was Wilde's façade. In life, Wilde was known for his brilliant wit and love for paradox, his cleverness permeating his works through unforgettable aphorisms and catchy epigrams. In the case of The Portrait of Dorian Gray, Lord Henry serves as the conduit through which Wilde channeled his thoughts. Ever true to his aesthetic ideals, Lord Henry's rebellious nature reflected Wilde's own battle against the limitations of Victorian society and its obsession with morality, often quipping remarks that criticized social restraints: "People are afraid of themselves, nowadays. They have forgotten the highest of all duties, the duty that one owes to one's self…Courage has gone out of our race…The terror of society, which is the basis of morals, the terror of God, which is the secret of religion – these are the two things that govern us…The only way to get rid of a temptation is to yield to it. Resist it, and your soul grows sick with longing for the things it has forbidden to itself, with desire for what its monstrous laws have made monstrous and unlawful" (Wilde 18). In this passage spoken by Lord Henry, Wilde quips that immorality is simply what society has defined it to be. He derides the terror of society for overshadowing the ideals of individualism, or the
pursuit of one's self-interests. It was because of his rebellious nature, as well as his wit, that made Wilde famous in social circles. Like Lord Henry, Wilde was both welcomed and despised in the numerous dinner parties he attended. In fact, in one Boston party he went to in 1882, the daughter of the host even expressed her delight in meeting Wilde, saying, "We had Oscar! He burst upon our view one Sunday—tights, yellow handkerchief and all. He is the most gruesome object I ever saw, but he was very amusing. Full of Irish keenness and humor and really interesting." As suggested in the quote, Wilde was also famous for his flamboyant sense of fashion; he was, after all, a notorious dandy (which made him the source of much gossip and scandal). Lord Henry, an advocate of an aesthetic philosophy, also had the key aspects of a dandy that was reflected in his preoccupation with physical beauty, his self-centered lifestyle, and his desire to mold Dorian into his own masterpiece. In the eyes of the world, Wilde was, like Lord Henry, a rebel to society and a promoter for a "cult of self." However, his longing for a different life ran even deeper than that which showed on the surface.
Dorian Gray, at least to Oscar Wilde, was who he always wanted to be. In a society of high moral convention and in a gravely judgemental world, Wilde craved for the freedom that Dorian lived. He wanted to carry out his hidden, unmentionable desires in a world without consequences, a life of pleasure unrestrained by society and by religion. In Dorian, Wilde found a channel through which to live the life he wanted. Dorian indulged in scandalous love affairs and frequented opium dens, brothels, and other places found in the darker side of Victorian England, his actions fueled by the pursuit of unprecedented pleasure and strengthened by the freedom from any repercussions. Through these sensual experiences, Dorian explored his surroundings through his senses as a form of escape from the harsh reality around him; likewise, Wilde yearned to find refuge in his fantasies, though the world in which he lived could not provide the security he sought. Underneath his want for forbidden love, Wilde also wanted a life dictated by his faith. While he was not known for his adherence to religion in his life, many of his closest friends were aware of its influence in his works and his desire to understand the mystery of faith. Though raised in the Anglican creed, he was especially attracted to Roman Catholicism, even attending Mass and benediction occasionally throughout his short life. However, his desire to become a full-fledged Catholic was thwarted by those closest to him: his agnostic father did not want Wilde to join the Catholic Church due to his fear that Wilde would not be accepted in the Anglican-majority Oxford University, while his friend and lover, Robert Ross, feared that a conversion to Catholicism would disrupt their relationship. Despite their opposition, Wilde remained intrigued by the Catholic faith, a fascination he shared with Dorian
Gray: "It was rumoured of him [Dorian] once that he was about to join the Roman Catholic communion, and certainly the Roman ritual had always a great attraction for him. The daily sacrifice, more awful really than all the sacrifices of the antique world, stirred him as much by its superb rejection of the evidence of the senses as by the primitive simplicity of its elements and the eternal pathos of the human tragedy that it sought to symbolize" (Wilde 106). In a church famed for its paradoxical richness and rigidity, Wilde desired to reconcile both his principles of aesthetics and ethics by joining the Catholic communion, a goal he eventually accomplished two days before he died. Thus, in the eyes of many a Christian since then, Oscar Wilde seemed to have found salvation on his death bed – unlike the ill-fated Dorian Gray, who chose to succumb to vice and ended his life in a fit of desperation. However, despite his wistful longings to live a life of guilty pleasures as Dorian did, Wilde was still brutally aware of his reality. Dorian's untimely demise at the end of the novel proves that, even in a world without consequence, the fulfillment Wilde wanted would forever be out of his grasp. Even in his wildest fantasies, he knew that it was impossible to achieve the impossible, a painful fact that even Dorian had to eventually face.
Dorian has long since gone, but Wilde still lives. After all, in his novel, and in all his works, Wilde left a fragment of his soul. Like the souls of many, it is broken, but beautiful. In them, readers see the different aspects of his personality, his hopes, his fears, and his desires. They see him as he truly was, and still is. Though Wilde has been resting in his grave for over a hundred years, his soul still lives. For in the mind of every reader who, in the dead hours of the night, haunts the streets of London's East End with the young Dorian, Wilde lives. On every page they turn, in every word they read, Wilde breathes. In his works that grace the dust of many a nightstand around the world, his readers discover the reflection of a man, one shattered by the power of his desire and the power of his faith. As Wilde's 163rd birthday approaches, let the world look to these mirrors for the reflection of one of its greatest heroes. Whether it be into the ice-cold blue eyes of Dorian Gray, in the respectable, yet rebellious, nature of Lord Henry, or in the aching passion of Basil Hallward, let the world continue in its fascination with the enigma that was, and always will be, Oscar Wilde.