I looked past the worn out crosswalk at the little bicycle shop. It was still there! The black bicycle with the crisscrossing red lines. It shone in the blazing summer sun, contrasting the rural scenery of my town around it; the goats feasting in the grass, the man sleeping on the edge of the still canal.
A sudden jerk from a man clad in shawlar-kameez, asking for money, any change, for blessings in return, brought me back. I politely declined and dashed across the street, smoothly yielding the motorcycles and the occasional chicken. I'd crossed this street daily, coming to check on the bicycle as if the price could've been reduced to a few rupees: enough for me to buy it. 
I grinned at the shopkeeper hopefully, but he just shook his head. My grin disappeared as I sighed and made my walk of defeat towards the bicycle. Maybe tomorrow. I ran my hand over its smooth body and over the small chip it had near its seat, its tires still covered in bubble wrap. It was two sizes too big for me, but that was good because I'd be able to use it for a long time. And since the shopkeeper wasn't looking, I quickly pressed the bell and ran before the shopkeeper could get a chance to scold me. My stomach was at ease now; no one had bought my bicycle. Yet.
It had been strange the first few times I came here on the way home from the chai stall without my father. It had been weird working there without him too. The boss-uncle yelled at me way more.
My father had randomly went missing, and I was hoping that by the time he's back, I'd have a new shiny cycle to show to him. He'd tell me how proud he was that I'd saved enough money to buy it, and maybe I would even be able to convince him to ride it and test it out. Mother said he wouldn't be back and kept crying. But that was a lie because sometimes he did leave unexpectedly to go to the city, and would bring me back a candy.
I whistled as I skipped back home. Today had been a decent day at the chai stall. A pretty lady with big sunglasses came in a car, wearing a really short shalwar and a kameez with no sleeves and gave me a big tip. I had quickly put it in my pocket. She even gave me a hug that made me blush and the boss-uncle jealous.
The wooden door to my house was open— the lock on the ground beside it. I furrowed my brows. That was strange: my mother always locked the door. I picked it up and went inside. My aunt Yasemin was sitting on the charpai with a bunch of other aunties, one that I recognized as my friend, Adil's, mother. Why were they crying?
–
Later, I had learned my mother committed suicide, overcome by her husband's death. Yes, he was dead, and yes, she was frustrated with me not accepting his death. Sometimes I think she thought it would be better to die instead of trying to explain it to me. I was not angry with either of them, they had raised me to the best of their abilities, even if it was for only nine years.
–
I stood there, eleven years later, on the curb of the crowded New York sidewalk, looking past the bright white crosswalk at the antique store. As the traffic rushed past, I waited patiently for their light to turn red, and mine green.
It was a soothing day to be outside. A bustling Friday afternoon. On my first day of work, I had gotten off at a subway station too early and found a little antique shop. I bought some stuff for my new apartment with the shopkeeper's suggestions. Then I saw it: a black bicycle with crisscrossing red lines. Could it be…? Yes. She told me her son had gone traveling and brought back some old and some new items for her shop. I had quietly run my hands over its smooth body and over the small chip it had near its seat, its tires no longer covered in bubble wrap. Though I had the money, I politely declined, telling her I'd be back for it.
Now, as men and women pushed past me onto the crosswalk, I too stepped on the road, smoothly crossing the street, dodging the many bodies around me, making my way to the antique sidewalk with my first paycheque sitting perfectly in my pocket. Waiting to be used.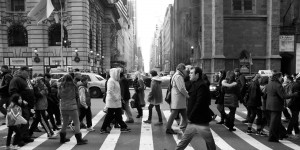 Picture source: http://jaspreetmonga.com/wp-content/uploads/2015/01/nyc-crosswalk.jpg